Hotels in manali
Nestled between the mountains of Himachal Pradesh, Manali has been a popular tourist destination in India for so many years. Known for its charming terrains, Scenic Mountain views, ancient temples, and untainted beauty, Manali satiates the need of every traveler around the country.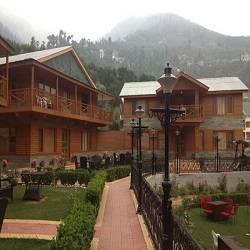 It has also been an ideal getaway option for North Indians due to its spectacular landscapes, alpine pastures along with diverse flora and fauna, and opportunity for various adventure sports.
But the best way to make your trip a success is to find a hotel in Manali where you can enjoy all spectacular views of this enchanting town.
Here is a list of top Manali hotels with the best view.
1. Solang Valley Resort
Solang Valley Resort is a haven for travelers looking for a peaceful stay in Manali soaking in its beautiful vistas. This hotel is an ideal place for people who want to spend their holiday in solitude within the luxury of the hotel.
Situated at the height of 8500 ft above sea level, Solang Valley Resort seems like a cottage nestled high up in the clouds, overlooking River Beas, apple orchards and pine forest.
Choose from: The orchard bungalow – valley facing, the river retreat – river-facing, and Glacier point – glacier facing.
Things to do: Barbeque, Spa therapy, river crossing, skiing, and river rafting.
2. Quality Inn River Country Resort
Set amidst soaring pine and cedar trees, Quality Inn & Suites is a new luxury resort in Manali. It is furnished in a classic wood cottage look providing travelers with an ultimate refuge of comfort and luxury. The hotel offers breathtaking views of the Beas River and pine forests.
You can spend your stay here simply enjoying the view from the balcony or pamper yourself with the exotic therapies in the in-house spa.
Choose from: Deluxe Room, Super Deluxe Room, Deluxe Suite, Duplex Suite, Three-Bedroom Cottage, and Five Bedroom Cottage.
Things to do: Massage therapy, river crossing, horse riding, paragliding, trekking, and river rafting.
3. Hotel River Crescent
Surrounded by towering snow peaks and apple orchards, Hotel River Crescent is one of the top best hotels in Manali. The best view of the location is of the River Beas from the hotel rooms. There are many activities to do in this hotel, or you can simply choose to marvel at the picture-perfect hotel surroundings and be at peace with yourself.
Choose from: Chancellor Deluxe, Duke Suite, and Monarch Suite.
Things to do: Trekking, mountain biking, river rafting, and indoor activities.
4. Shobla Pine Royale
Literally translated as exquisite in the local language, Shobla Pine Royale is a wooden cottage located far from the hustle-bustle of Manali. It is an ideal place to enjoy the solitude of the Himalayas with the breathtaking views of the Valley.
Nestled on a cliff in Old Manali, the rooms in Shobla offers the all-in-one view from the balcony; you get the views of snow-peaked mountains on both the sides, mesmerizing pine forests and Beas River below, and the majestic Jogni Falls at front.
Choose from: All the rooms are cottage style with a balcony offering a magical view of the mountains and the river.
Things to do: Sightseeing, trekking, and bonfire.
5. The Himalayan
A Victorian-style hotel with the elements of both gothic and modern era, The Himalayan is a perfect place for honeymooners and travelers looking for solitude. The hotel greets you with vintage and finest elements and provides amenities to make your stay comfortable. It is located at the height of 2003 m above sea level, beautifully placed between the cherry and apple orchards.
The scenic vistas of mountains, forest, orchard, and valley, make your fairytale experience come true.
Choose from: If you like fairytales, choose the castle rooms to experience the British royal era with a hint of modernism.
Things to do: Candlelight dinner with your partner, spa, camping, paragliding, angling, etc.
Cheap Hotels in Manali
Sarthak Resorts
Sarthak Resorts comes with a promise of 8 assured amenities, money-back guarantee, and priority helpline support. You also get free cancellation and standardized prices throughout the year. Along with breakfast and Wi-Fi access, Sarthak Resorts can organize campfire for guests on demand.
Hotel Hilltop
Guests can enjoy easy access to tourist attractions with stay at Hotel Hilltop hotel. Situated at close proximity from Manali Nature Park, Hotel Hilltop is a budget accommodation in Manali. A total of 17 well-kept and huge rooms are available for accommodation. Some of the in-room amenities offered are television, room heater, fan and bathroom with toiletries. The front desk is one of the facilities available at Hotel Hilltop. This hotel in Manali offers room service for the convenience of the guests.
Hotel Greenfields
Hotel Greenfields comes with a promise of 8 assured amenities, money-back guarantee, and priority helpline support. You also get free cancellation and standardized prices throughout the year. Set amidst breath-taking Himalayan ranges, tall pine forests, and green apple orchards and located about 52 km from the Kullu Manali Airport, Hotel Greenfields that has earned 2016 Tripadvisor Certificate of Excellence is one of the famous hotels in Manali. This hotel offers a rooftop terrace restaurant. Hotel Greenfields acquires 7 semi-deluxe, 12 deluxe, 3 super deluxe and 4 family suites. All the rooms and suites are equipped with modern amenities and room service.
Hotels in Manali 3, 4 and 5 star
The Himalayan – 5 Stars
The Himalayan is a stunning 5 Star hotel. The hotel has a great location and boasts of 24 rooms, spread over 3 floors. For the quality, the room pricing is fair with room tariffs starting from Rs 9400.
Hotel Highlights
24 smoke-free guestrooms
Restaurant and bar/lounge
Fitness center
Conference center
Terrace
24-hour front desk
Daily housekeeping
Garden
Library
Self-serve laundry
Meeting room
ShivAdya Resort & Spa – 4 Stars
ShivAdya Resort & Spa has rooms, spread across 2 floors. A 4 Star hotel, it has room fares starting at Rs 7000
Hotel Highlights
15 smoke-free guestrooms
Restaurant (Breakfast available)
Spa tub
Sauna
Spa services
Airport shuttle
Childcare
Terrace
24-hour front desk
Coffee/tea in a common area
Daily housekeeping
Alokik Resort – 4.5 Stars
Alokik Resort has rooms, spread across 6 floors. A 4.5 Star hotel, it has room fares starting at Rs 6789
Hotel Highlights
50 guestrooms
restaurant and pool bar
Outdoor pool
Free area shuttle
Airport shuttle
24-hour front desk
Air conditioning
Daily housekeeping
Garden
Front desk safe
Laundry service
Meeting room